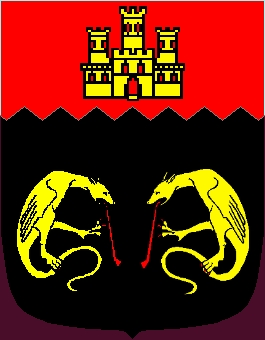 The Pipe Club of Lebanon
Members Area

The Founders

Paul Jahshan
Paul is the PCoLeb's founding president and web designer, and a life member of the Pipe Club of London since 1994. Born in 1966 in Hazmieh, Lebanon, he completed his Ph.D. in American Studies at Nottingham University (UK), and is currently Professor of American Studies at Notre Dame University (NDU), Lebanon. His favourite tobaccos are Dunhill's My Mixture 965, Royal Yacht, Standard Mixture, Nightcap, and Early Morning Pipe.
Fares Irani
Fares is the PCoLeb's personnel officer. Born in 1980 in Hazmieh, Lebanon, Fares is an interior designer and is now working in warehouse design. A pipesmoker since 1998, he is the owner of 12 pipes in which he mainly smokes Mac Baren's Vanilla and Cherry tobaccos.
Salim El Khoury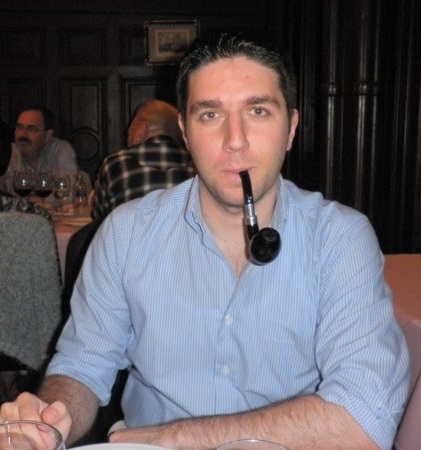 Salim is the PCoLeb's accountant and treasurer. Born in 1981 in Hazmieh, Lebanon, he received his Licence in Business Computer from the Lebanese University. He is now working in an intellectual property company. Salim began smoking in 1999; his favourite tobacco is Dunhill's My Mixture 965, and his favourite pipe is a Viprati Fiamatta.
Our Local Members

Peter Khatcherian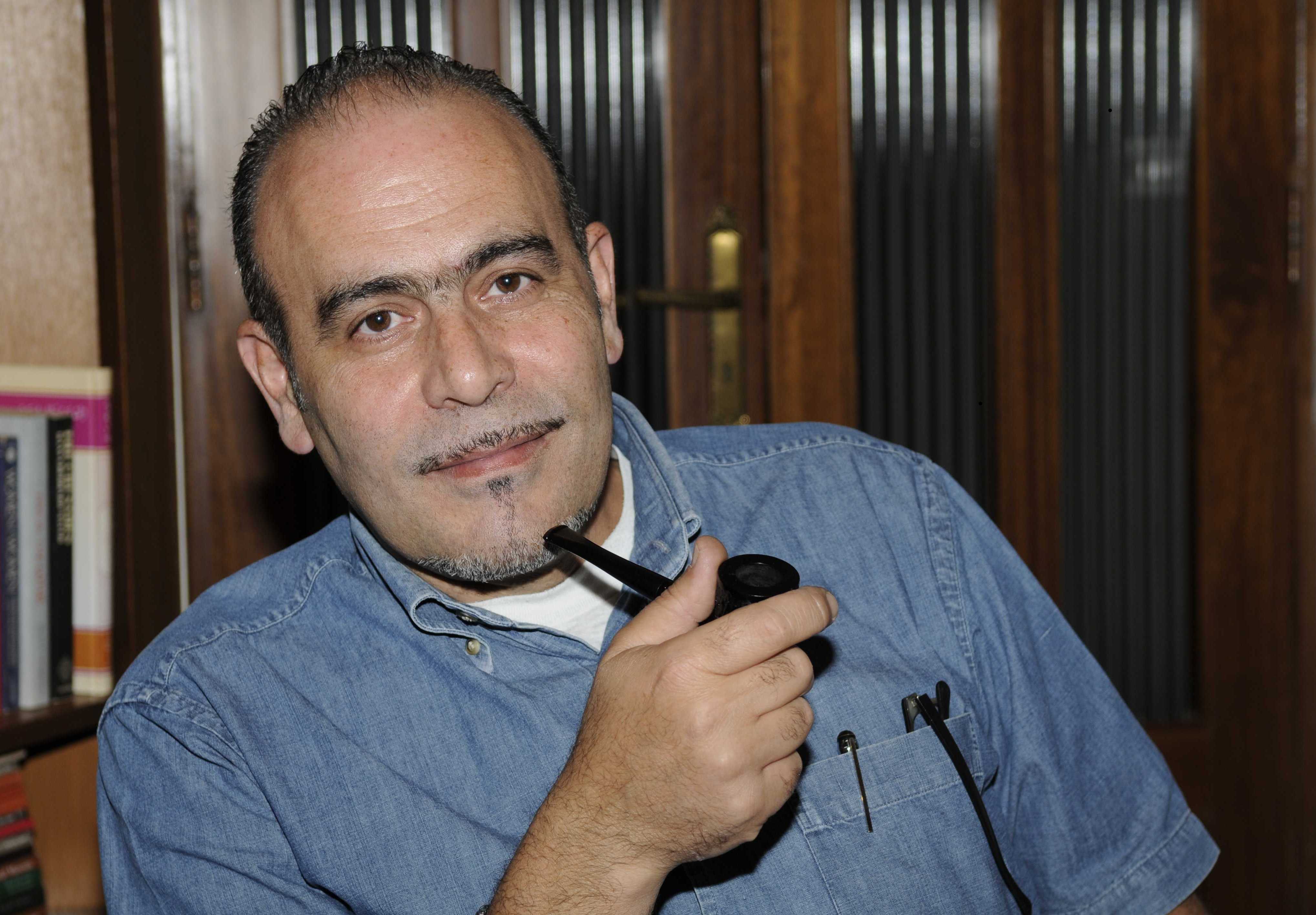 Peter Edward Khatcherian, born in June 1961 in Bourj Hammoud, owns and operates a workshop specializing in diamond setting and fine jewelery making. Photography is his best hobby since he was a kid, and for the last 6 years he has been doing advertising photography and graphic design as a second job. Peter grew up in a house filled with the smell of his father's pipes, and started smoking in 1981. He is the owner of 48 pipes and his favorite tobacco is Captain Black (white). His interest in pipesmoking led him to start making his own pipes for the last year, starting with olive wood for a try. Having been quite happy with the results, he has decided to continue making his own pipes.
Antoine Sarkis
Antoine Sarkis has been an interior designer since 1989 and is now working at Mirodec in Beirut. The father of twin girls, he has been smoking since 1986. He hopes to enlarge his half-dozen pipes in order to enjoy aromatic tobaccos, among which Mac Baren's Vanilla variants. A passionate arghileh and cigar smoker, he intends to spend more quality time with his re-discovered pipes.
Harvey Oueijan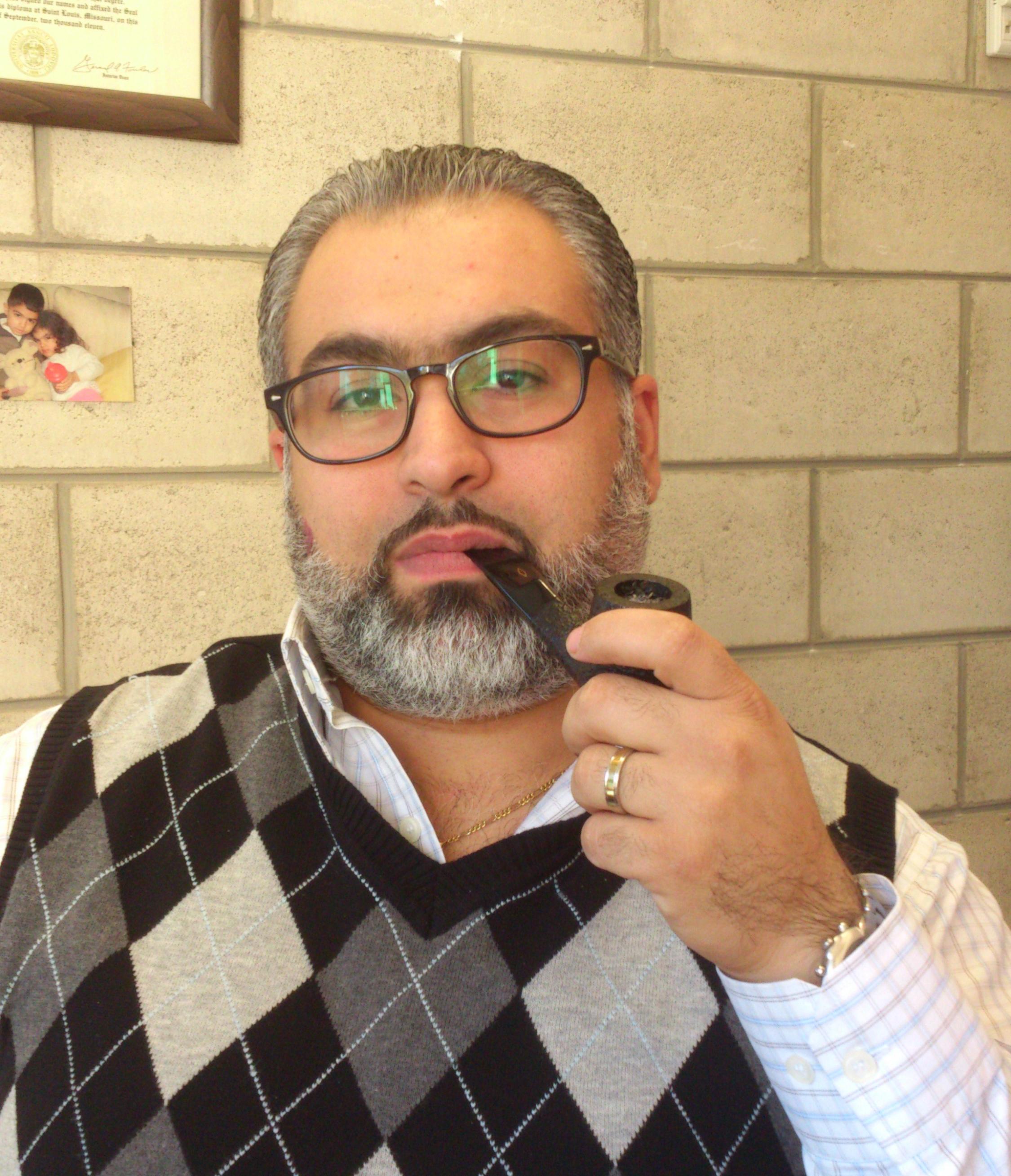 Born in 1979, Achrafieh, Lebanon, Harvey completed his Ed.D. in Leadership and Administration at Saint Louis University (USA), and is currently an Assistant Professor of Education at Notre Dame University (NDU) and an Educational Consultant at ED-CON, a consultancy firm that he owns. He is married with two children. His favorite tobaccos are Dunhill's Night Cap, Dunhill's Royal Yacht, and Mac Baren's Solent Mixture.


Issam Sbat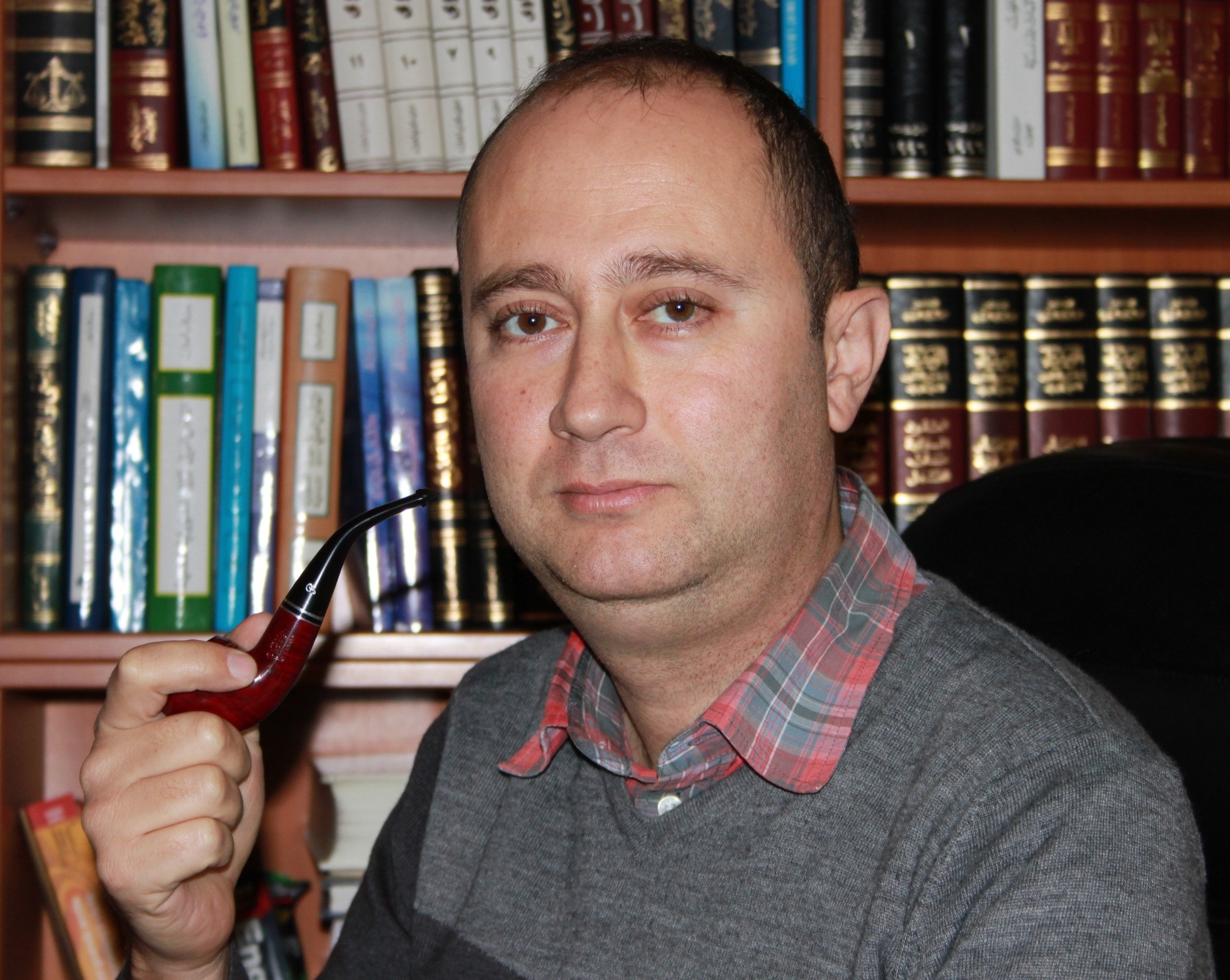 Issam Sbat was born in 1975 in Mina, North Lebanon; he is currently an attorney at law and has his office in Mina. Issam is married with three children. He has been smoking pipes since 2003. He owns 12 pipes (Peterson, Stanwell, Savinelli, and others), and his favourite tobaccos are Dunhill's My Mixture 965 and Peterson's Sunset Breeze.

Mohamad Helou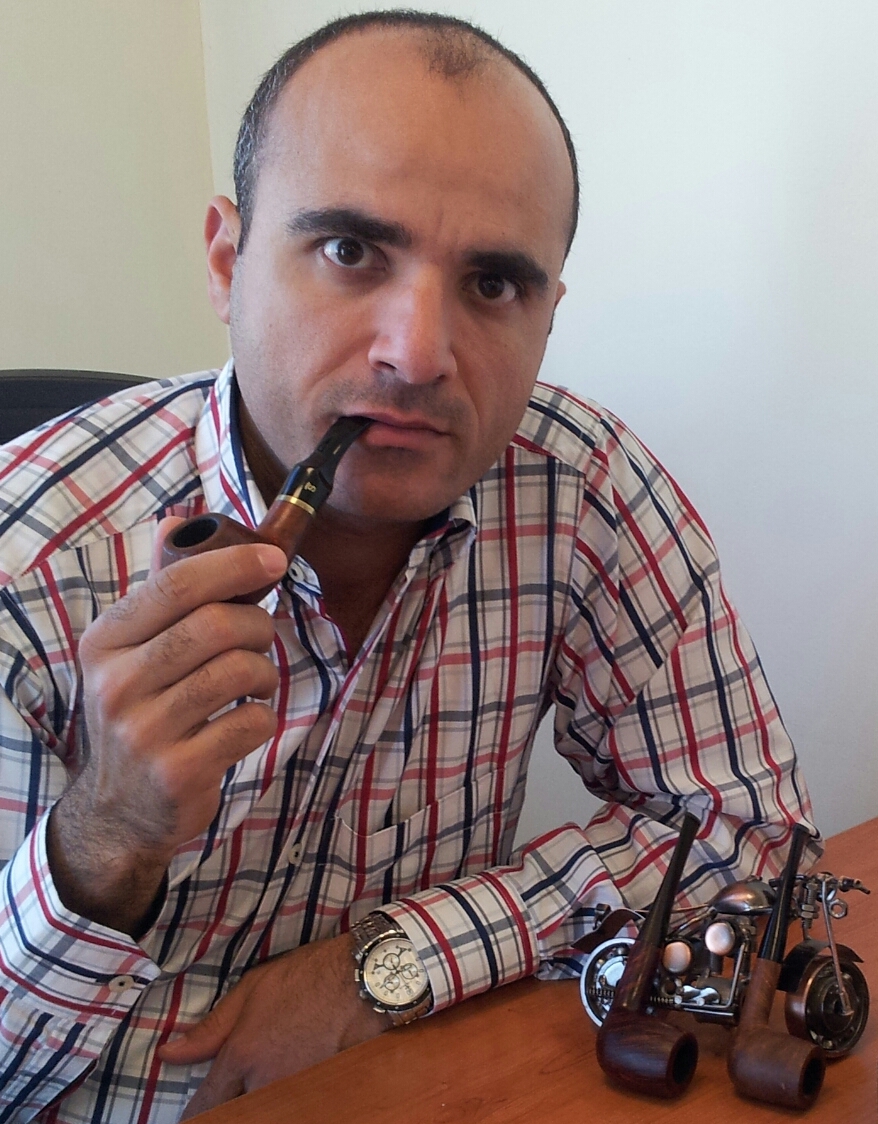 Mohamad Helou was born in 1979 in El-Mina, North Lebanon. He is the maintenance/GMAO responsible at Degremont Liban. Mohamad is into extreme sports such as speleo, hiking and climbing, and is also interested in nature, music and creative work. In his quality time, smoking a pipe gives him a feeling of tranquility. He has been attracted to pipe smoking since 2003, and his favorite tobaccos are Dunhill's Nightcap and My Mixture 965, and MacBaren's Solent Mixture. Mohamad likes to collect valuable pipes, among which one can find Stanwells, Petersons, Savinellis, and Vauens. His favorite pipe, here pictured, is a Stanwell Boa.



Abdul Rahman Annous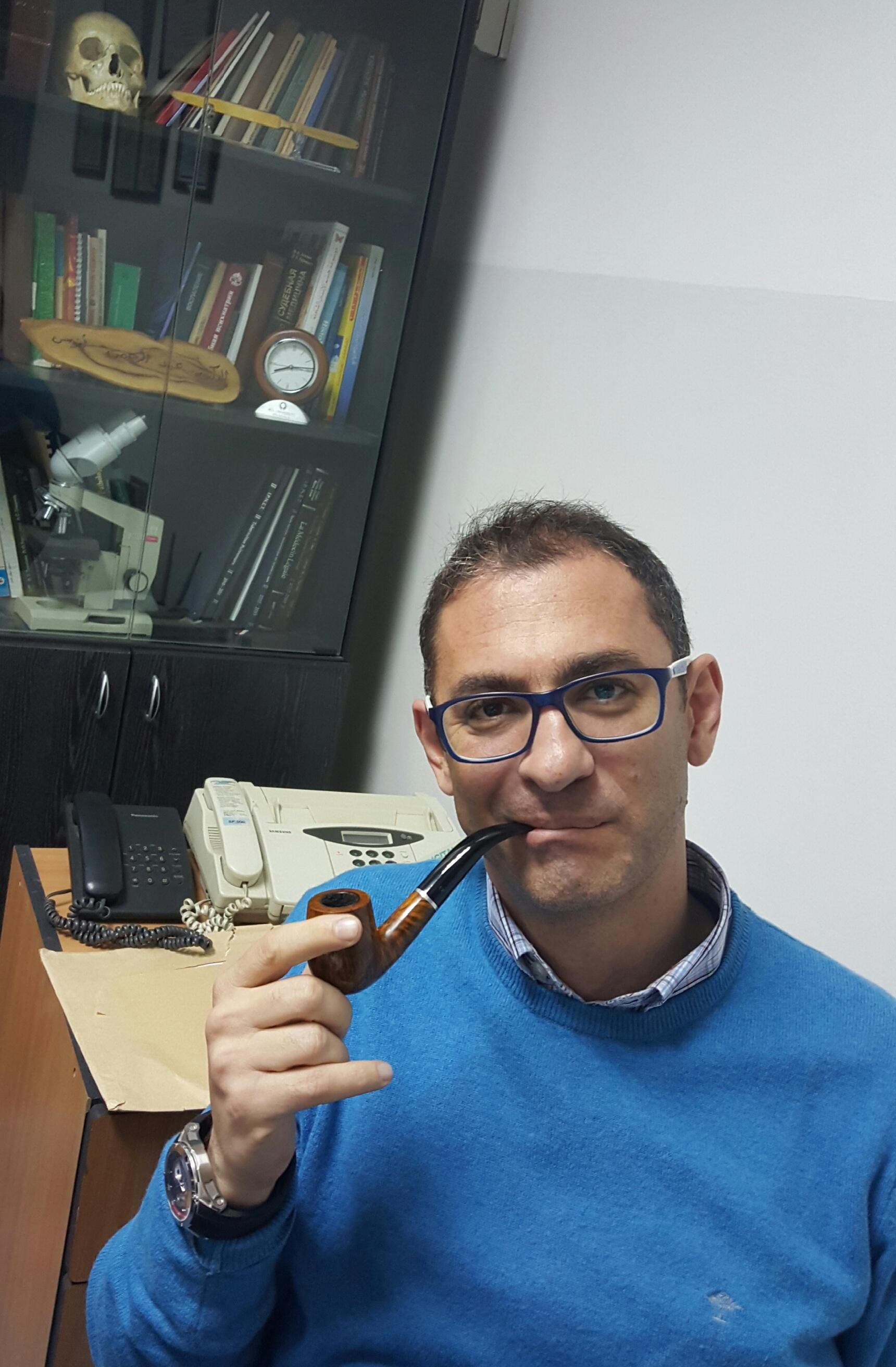 Abdul Rahman Annous was born in Elmina in 1971, North Lebanon; he is a forensic pathologist at the ministry of justice, the owner of a surgical pathology lab in Tripoli, and is currently assistant professor at BAU and UOB. His hobbies are diving, fishing and hiking. He is interested in symbols, rituals and complicated unsolved forensic cases. His ideal is Sherlock Holmes, and this opened for him the gate to the pipe's world. His favorite tobaccos are Dunhill's Nightcap and Royal Yacht.

Tony Howayek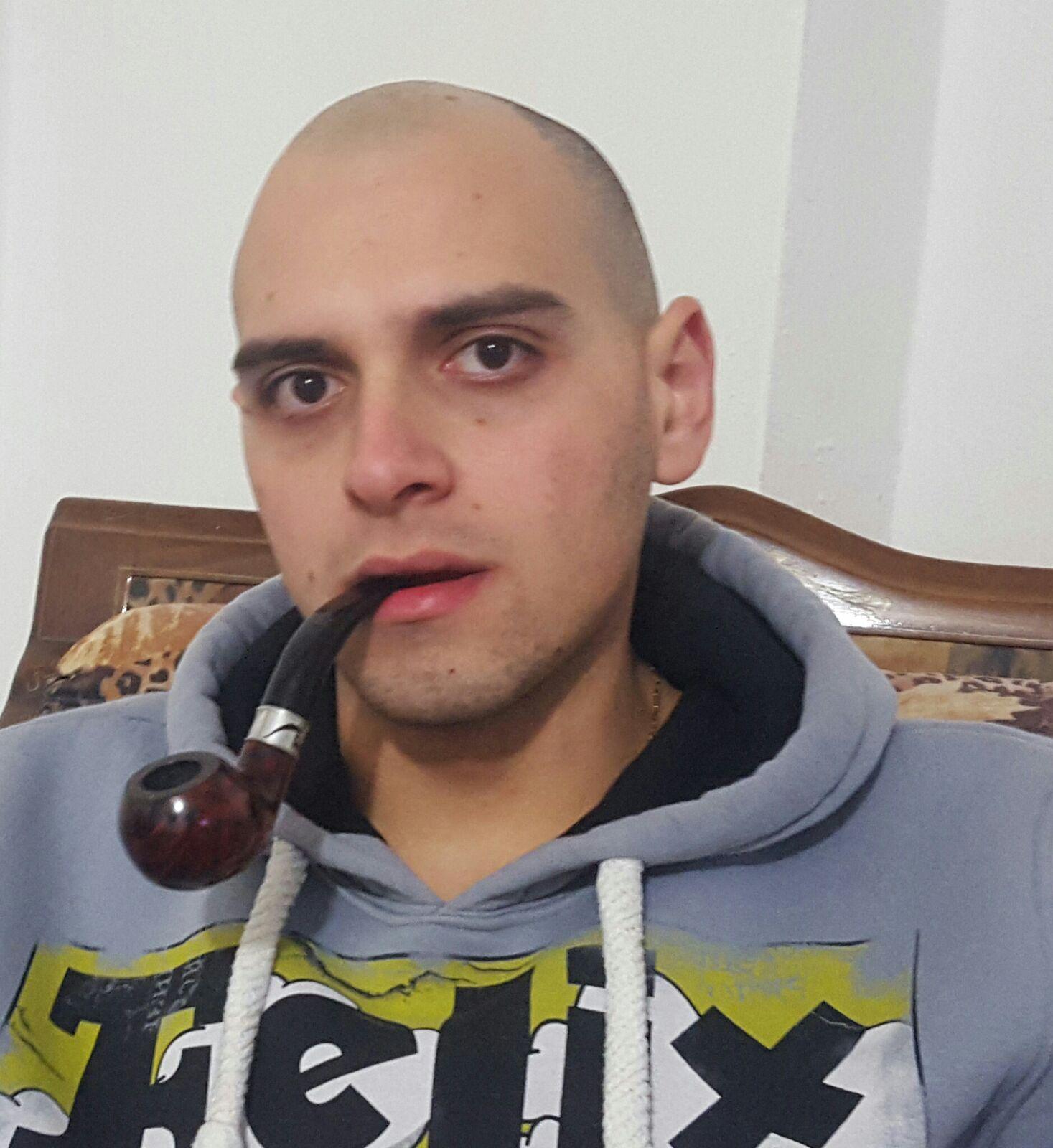 Tony Howayek was born in 1992 and has been smoking the pipe since 2015. He finished three years in Agriculture at the university and then transferred his BA to hospitality management. His favourtie tobacco is MacBaren's Vanilla Flake.
Antoine Hanna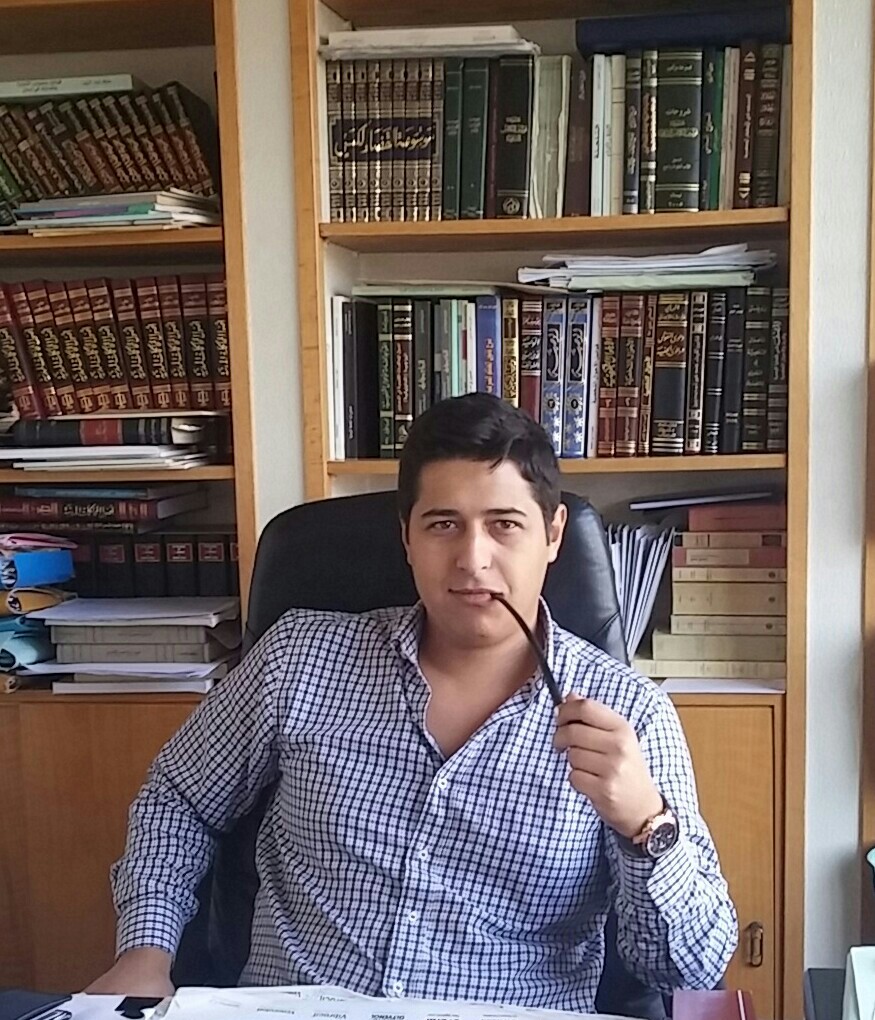 Born in 1987 in Zahle, Lebanon, Antoine is an attorney and partner at Hanna Law Firm. Formerly an occasional cigar smoker, he was converted to pipesmoking when his godfather gave him a pipe on Christmas. Smoking almost daily since, he is looking forward to sampling as many mixtures as possible. His current favorites are Dunhill's My Mixture 965 and Apéritif, and McConnell's Original Oriental. Antoine prefers churchwarden pipes, which he believes greatly enhance the meditative aspect of pipesmoking.
Charbel Safi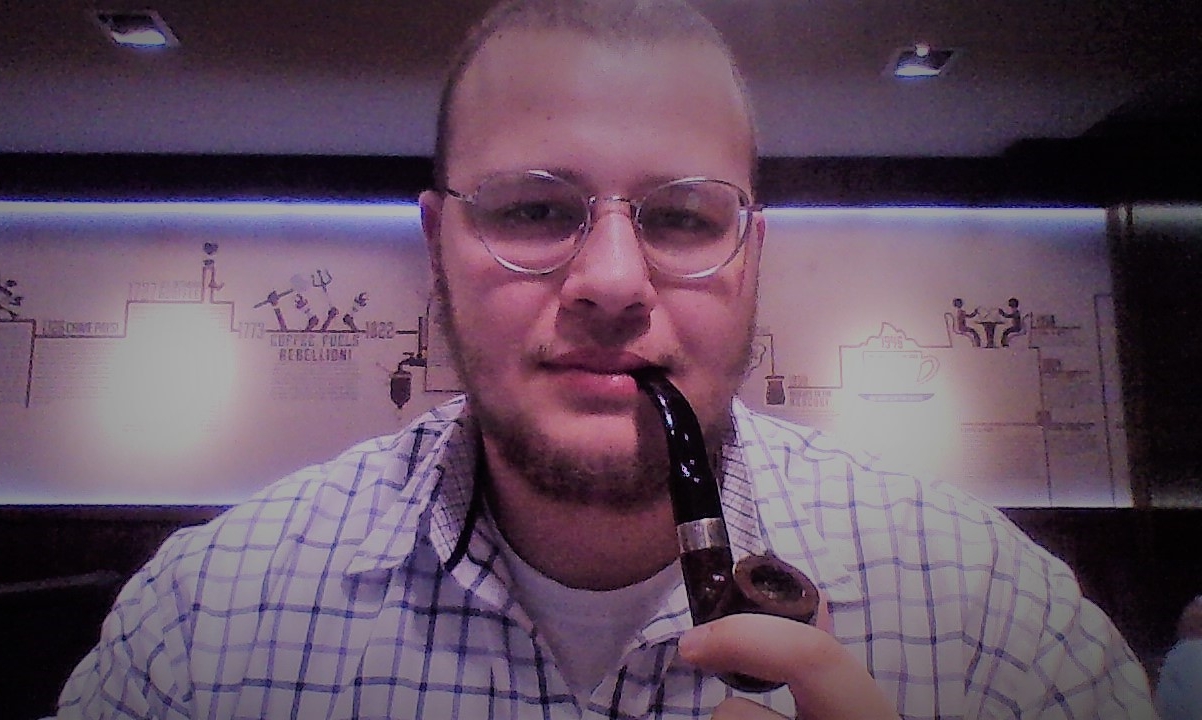 Charbel Safi was born in 1996. He is into all kinds of sports, like Judo, in which he held the Lebanese championship for four years. After seeing some of his favorite actors on television smoking a pipe, he decided to give it a try. Since then, pipe smoking has become one of his best hobbies. His favorite tobaccos are Dunhill's Royal Yacht, My Mixture 965, NightCap, and MacBaren's Harmony. Charbel also makes sure to take good care of his beloved pipes, a Peterson Fermoy and a Vauen.
Our Overseas Members

Pedro Romero-Auyanet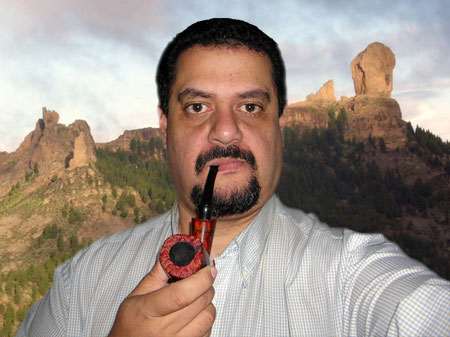 Pedro started his association with the PCoLeb in July 2004 when he graciously offered to translate into Spanish our "The Way of the Pipe" booklet and thus gave his own Spanish philosophical touch to our text. Ever since that time, he has accompanied us as we grew and periodically sent new links, ideas, tips, and other goodies our way. Pedro, 39, lives on the Canary Islands with his wife and daughter, and a canine companion, a great Westie (West Highland White Terrier). Pedro sells and repairs computers and is a seasoned pipesmoker. Other than his collection of Petersons and Stanwells, he favours the Spanish pipe makers like Martin, Baulenas, and Bonet. His favourite tobaccos must contain Latakia, so it is not surprising that he likes Dunhill's Early Morning and My Mixture 965, as well as Balkan Sobranie. A well-filled pipe, a family environment, inspiring music, and a good book make his day. Visit Pedro's page in our Links section.

Richard Chammas

Richard Chammas was born in France and holds two master's degrees, one in chemistry, the other in logistics; he currently works in a multinational logistics service provider. Richard has been a friend of the members of the PCoLeb for many years, informally attending quite a few meetings, and indulging every now and then in a pipe bowl. Originally an avid smoker of fine Cuban cigars, Richard was hesitant to devote his time to learning the lore of the pipe because of his constant travelling abroad. Yet, as time went by, and Richard's taste buds became more sophisticated, he finally discovered the virtues of pipesmoking and decided, with the encouragement of all, to "officially" take up the pipe and become a "brother of the briar." His first pipe, a beautiful Vauen (in the photo) was quickly followed by a Peterson Standard System in which he very happily smokes his now-favourite tobacco, Balkan Sasieni.





Toufic Nsouli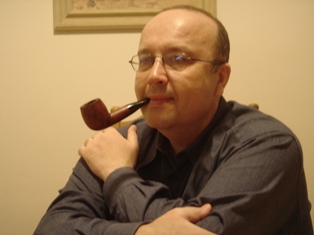 Toufic lives in New York and was happy to discover that there was a pipe club in his beloved country, Lebanon. He is a serious pipesmoker and collector and owns more than 200 hand-picked pipes, and his search for the ultimate briar is continuing. Toufic shares the PCoLeb's passion for the "philosophical" side of pipesmoking and says: "Pipes and pipe smoking are for me a kind of therapy. A very soothing one at least. What appeals mostly to me about smoking the pipe is carefully choosing a briar pipe from my collection for the moment, delicately loading the bowl, puffing and tamping my favorite Virginia tobacco with a hint of Latakia." Toufic likes to recall his first pipe, a Dunhill prince, bought in 1983. Since then his collection has grown to include favourite pipes made by Ser Jacopo, Castello, Dunhill, Charatan, and Upshall.
Jose Luis Manzur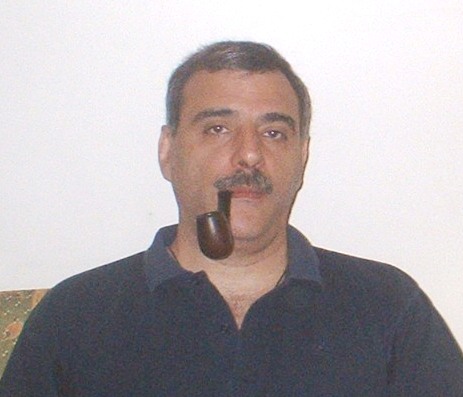 Jose's grandparents left Lebanon in 1907 to settle in Argentina; little did they know that their grandson would make the link back to his ancestors' land through a pipe club! Jose is a public accountant and executive director of a company. Besides smoking pipes, Jose is also a fan of classic cars. To him, pipesmoking is a wonderful activity, the "beginning of an experience that introduces people to a world of pleasure, aroma, and helps them reflect about life and things." As all the members of the Pipe Club of Lebanon, and as all serious pipesmokers for that matter, Jose is interested about the more "spiritual" side of the briar. His favourite pipes are Stanwells, Comoys, BBBs, and Petersons, and his favourite tobaccos are Dunhill's My Mixture 965, Rattray's Accountant's Mixture (obviously!), Balkan Sobranie, Erinmore, and Condor.
Jorge García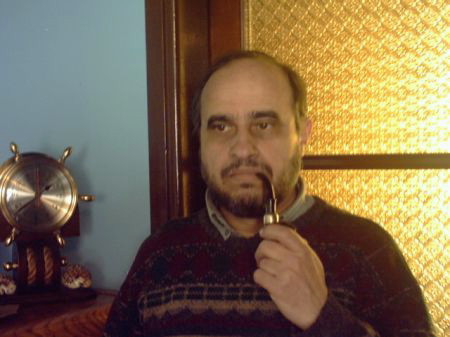 Jorge García was born in Montevideo City, Uruguay, and is still working there as an electrician, computer technician, and programmer. An avid pipesmoker, Jorge has been smoking for almost 20 years and regularly puffs six pipes a day! His collection boasts no less than 55 pipes which he fills with Mac Baren's Navy Flake, Capstan Mild Navy Cut, and Erinmore Flake. Now we know who to contact when we have problems with flake tobacco! Jorge, whose favourite pipes are Aldo Velanis, Savinellis, Brebbias, and Petersons, believes that a pipe is the ideal companion for a variety of daily moments, whether at work or at home relaxing with a good book or thinking about the thorny questions that arise in one's life. To him, a pipe makes the good moments better and more beautiful, and mitigates the bitterness of the bad moments, making them less painful. Jorge is, in addition, the founder of the Club de Pipafumadores Uruguay 2001.
Luis McIntyre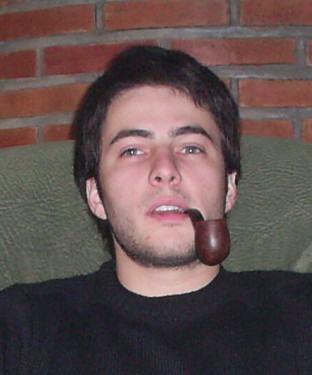 Luis McIntyre, Jose Luis Manzur's friend, is originally from Scotland; his grandfather came to Argentina in 1920 and the family has settled there ever since. Luis is in his second year studying Public Relations, and as a pipesmoker he is on his way to making good and trustworthy friends all over the world! His favourite pipe is a BBB, and he smokes Captain Black, Capstan, and W.O. Larsen Mellow Mixture.
Guillermo Ruizlimón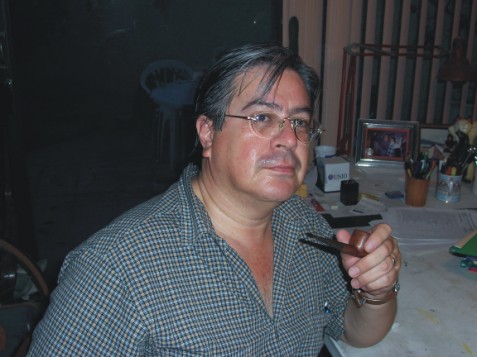 Guillermo Ruizlimón, from Mexico City, is a visual artist who paints and works as a teacher, and the founder and president of a pipe club in his city. His best companion is his trusted pipe, especially when reading. Guillermo believes that the brotherhood found among pipesmokers is truly a great thing, and also the reason why we should "keep on puffing." The pipe, in addition, is a beautiful object which cannot be ignored or put aside lightly; aesthetically, this "something extra" is not found in any other form of tobacco use. Guillermo is here pictured holding an English Stadium pipe that belonged to his elder brother who, when in high school, smoked a favourite cherry blend. Guillermo's preferred tobacco is Mac Baren's famous Mixture/Scottish Blend.
Patrick Brain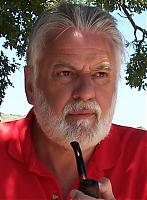 Patrick Brain lives in London and is a true professional, both in his smoking performance and in his collection of more than 200 pipes! A Minister of Religion and Alternative Dispute Resolution, Patrick is by calling a person who looks at points of similarities rather than differences, the mark, indeed, of a genuine pipesmoker. Patrick smokes a pipe because "it is one of the nearest things on earth to heaven," and smoking "gives a sense of peace and tranquility and calms and soothes the soul." Patrick also believes that "the brotherhood and sisterhood of pipe smokers is truly international and that there are no barriers of race, colour, religion or creed" between pipesmokers. A lover of Balkan Sobranie, now sadly unavailable, Patrick is happy to experience the pleasures offered by the best tobaccos on the market.
Pablo Antonio Armando Carrasco Berrios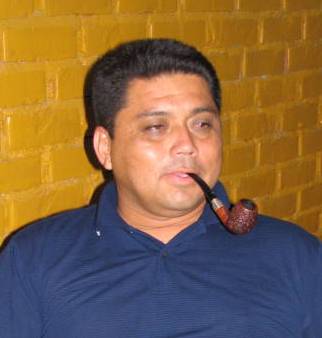 Pablo is a Chilean pipesmoker from Arica and a member of the Santiago de Chile Pipe Club; a senior university student, Pablo is also a radio speaker, tour leader, and English translator! An outspoken defender of civil liberties, Pablo was among the first to express genuine sympathy with the PCoLeb's plight during the July-August 2006 war against Lebanon. To Pablo, we are living "in a globalized world where everything goes so fast and everybody seems to be disposable," but "taking the time to connect with oneself through the smoke of the pipe is something which rebuilds the strength to fight for being a unique individual in this world." Sympathy, brotherhood, uniqueness: three concepts that make of Pablo a serious candidate for the long and pleasurable journey towards the perfect pipe! Pablo smokes Amphora Full Aroma and is keen on trying more exotic tobaccos as the opportunity arises.
Garry Weston
Garry lives in Worcestershire, UK, and is a law enforcement officer. A smoker for more than twenty years, Garry is also the chairman of the John Hollingsworth pipe club of Birmingham. The photo above shows him hosting the Norfolk Open Pipesmoking Championship in 2006. Garry is married with one daughter, and his hobbies include reading, shooting, football, and, of course, pipesmoking. Taking some time out from his more active everyday commitments, Garry is keen on furthering overseas relationships with the "like-minded Brethren of the Briar," and learning "from their experience in pipesmoking and pipemaking." A serious smoker, Garry's favourite tobacco is Mac Baren's Vanilla, a tobacco popular with more than one PCoLeb member.
Ted "T-Bear" Haviland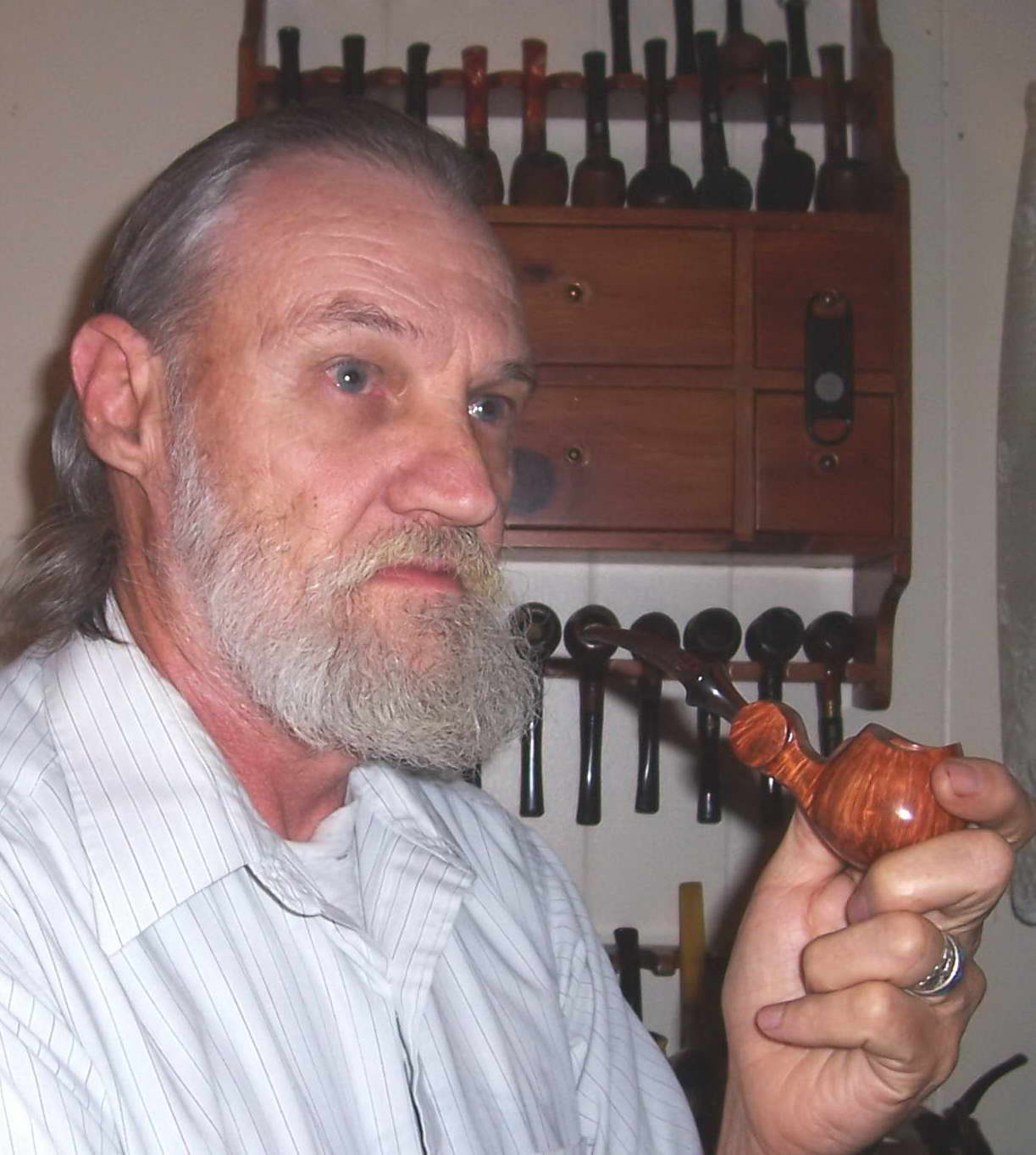 Ted, known to his pipe-smoking friends as "T-Bear," is a mechanical design drafter from Missouri, U.S.A., and has been smoking the pipe since he was 16. A proud grandfather to twenty-four grandchildren, Ted is now learning the fine art of pipecarving. The freehand pipe in the photo above is his creation, so make no mistake, the man knows his pipe inside out! Ted believes that as the world is getting smaller, one's duty, especially a pipesmoker's, is to know one's neighbours better. Pipes and tobacco are "a cultural focal point that people of all cultures, races or religions can relate to and use as a common ground for understanding." From knowing comes understanding, and from understanding comes the feeling of brotherhood to all, so dear to the brothers and sisters of the briar. Ted's favourite tobaccos are Penzance, Frog Morton on the Bayou, and Squadron Leader. Always in search of the perfect pipe and tobacco, Ted hopes never to find them...
Juan Hernandez Bruna
Juan was born in Talca City, Chile, and is a mechanical engineer currently working with Agrocepia Dehydrated. Among his more than a dozen pipes, Juan loves his BBB 712 (in the photo above), and believes that a pipe, in addition to giving us wonderfully fragrant moments, is also an aesthetic object of great beauty. Juan remembers having been introduced to the "beautiful art of pipesmoking" by a college teacher. Juan is a member of the Santiago Pipe Club of Chile, and has been smoking for seven years already. His favourite tobaccos are Dunhill's Early Morning Pipe and Mac Baren's Scottish Blend.
Christian Schneider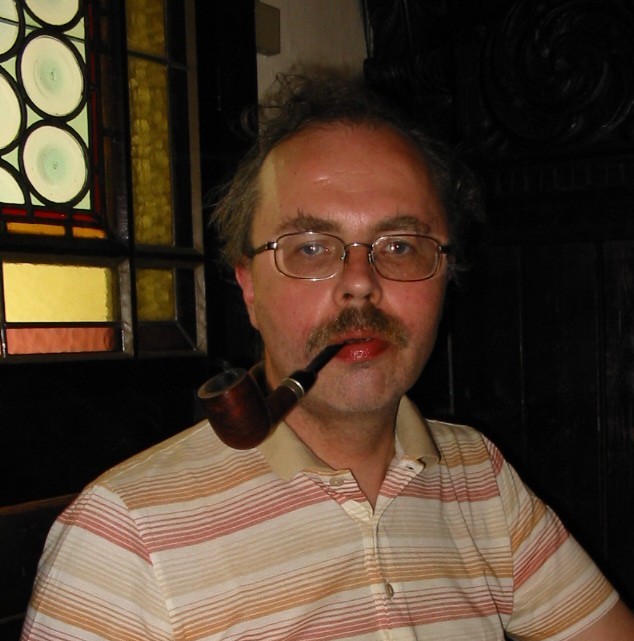 Born in Vienna, Austria, Christian is a "Magister" in German Literature/Language and History, and speaks, besides English, Romanian. He has written numerous tobacco reviews for the Viennese Pipe Club, of which he is a member. Christian has been "unofficially" with the PCoLeb for a couple of years already: a contributor to our journal, Christian has also translated the PCoLeb's "Tobacco Sampling Sheet" into German. In 2007, he generously welcomed Paul Jahshan and his family on their trip to Austria. An ex-smoker of cigarettes, Christian quit them when he found out that pipesmoking was his real passion. A collector of Macintosh and assorted computers, and a fervent web surfer, he is in love with all of his 40+ pipes, but has a special liking to an Austrian hand-made Prammer pipe. His preferences are for aromatics and light English mixtures, and preferably smokes Mayflower Nr. 1 and VCPÖ Selection Nr. 1, only available in Austria.
Oliver Franiel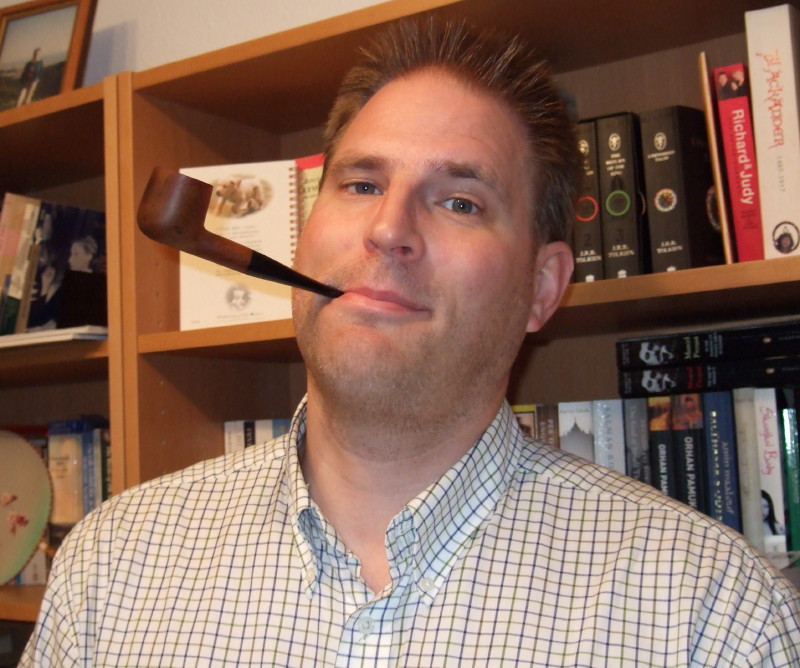 Born in 1971 in Frankfurt, Germany, Oliver enjoyed his first pipe in 1997, when he met Paul Jahshan at the University of Nottingham (UK). Working towards their degrees at the same department, a joint pipe session frequently sparked extensive discussions until the wee hours of the morning. Now heading the editing department at a large international consultancy, Oliver leads a hectic working life, which means those joyful hours of pipesmoking offer welcome opportunities for quiet and contemplation. Oliver was the first overseas member to join the PCoLeb "on site," attending an official club meeting during a visit to Paul and his family. His favourite pipe is a Vauen Mirage 142, which is reserved for W.O. Larsen's No. 50. Oliver's other tobaccos include Dunhill's My Mixture 965 and W.O. Larsen's A True Delight.
Walter Paterno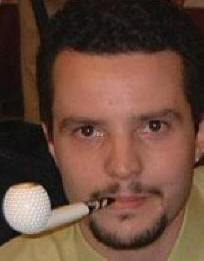 Walter was born in 1969 in Buenos Aires, Argentina, and is working as a pharmacy preparer/producer of cosmetology. Walter delights in spending quiet moments with his pipe in the company of his wife and two children, for "smoking pipes is a pleasure and a relaxation" which "frees the mind to travel with smoke." A believer in the big fraternity of pipesmokers, Walter is a member of various pipesmoking mailing lists to which also belong several members of the Pipe Club of Lebanon. The happy owner of 70 pipes purchased over more than 10 years of ardent smoking, Walter has a preference for the handmade pipes of Rafael Martin, Bruker, Savinelli, and Mastro de Paja. English mixtures are definitely at the top of his tobacco list, especially Dunhill 965, Balkan, and Larsen; yet he also believes that to every moment there is a tobacco, and good aromatics are as welcome as the old Latakia blend.
Fred J. Hanna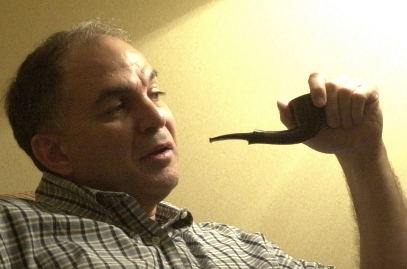 Fred was born in Toledo, Ohio (USA), and is Professor of Counseling and Director of the School of Applied Psychology and Counselor Education at the University of Northern Colorado. Fred's grandparents were born in Lebanon before they traveled to America at the beginning of the 20th century, so he proudly describes himself as having "100% Lebanese blood." The pleasure, enjoyment, and relaxation that come with pipesmoking are added to the hobby of collecting pipes but, as Fred says, "being involved in the worldwide community of pipe smokers and collectors" is really what pipesmoking is all about. A lover of English blends and Virginias, Fred is also heavily involved in sharing his passion with others: his numerous articles on the subject of pipes, pipe smoking, and pipe collecting can be found in Pipes & Tobaccos and in The Pipe Collector.
Ali Güler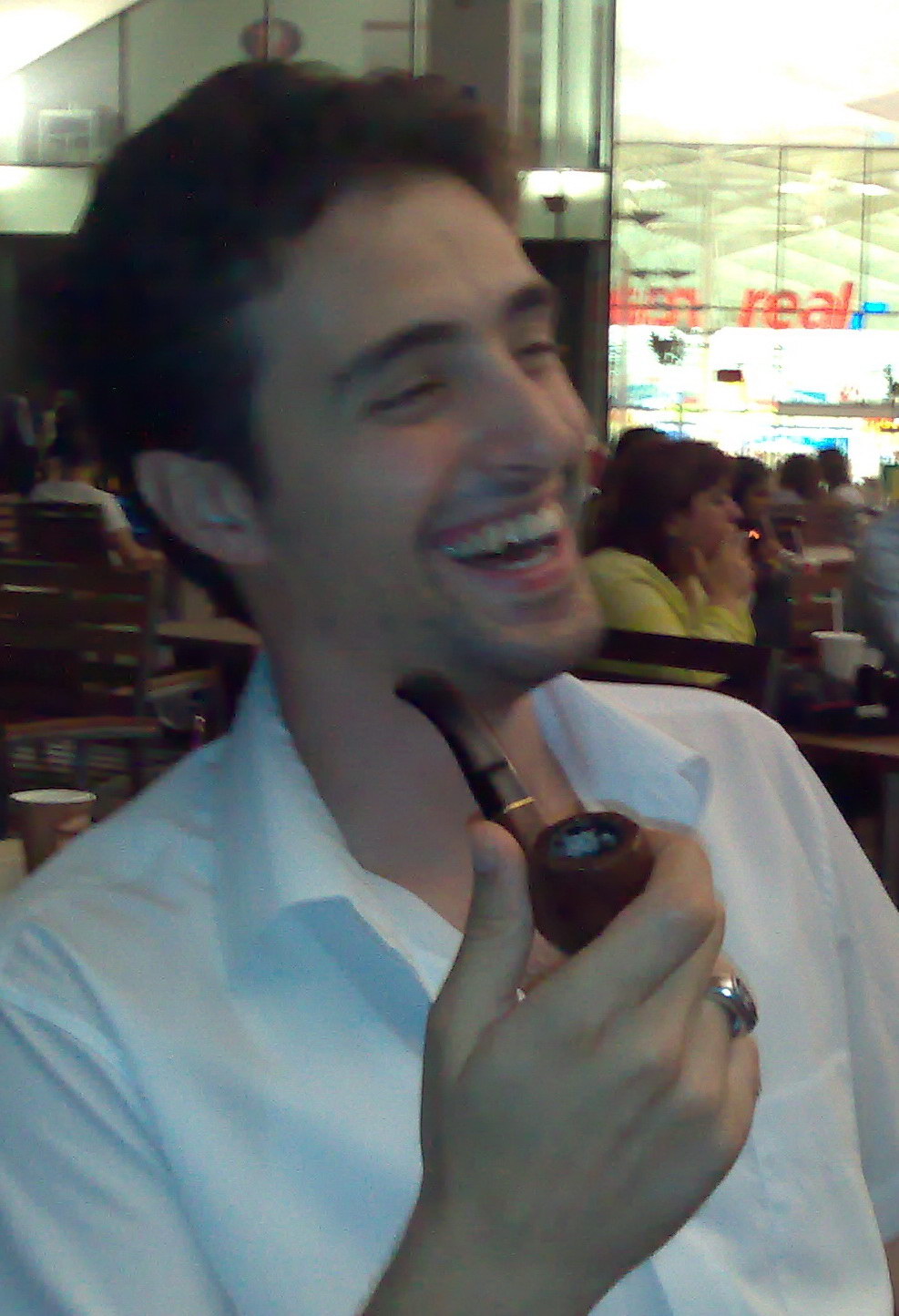 Ali is a mechanical engineer and holds the post of Sales & Marketing Director at CSA Oil & LPG, a dispenser and oil service equipments company in Istanbul, Turkey. He is very enthusiastic about the pipe and, after more than five years of passionate smoking, fills his Turkish-made Sahin Pipo and his Savinelli more than ten times a week with Captain Black (Blue) and Che (Chocolate). Ali sees smoking as a way to enjoy his time, relax while listening to classical music, and make friends not only in his home country but also with the international brotherhood of pipesmokers.
Ahmad Al-Janabi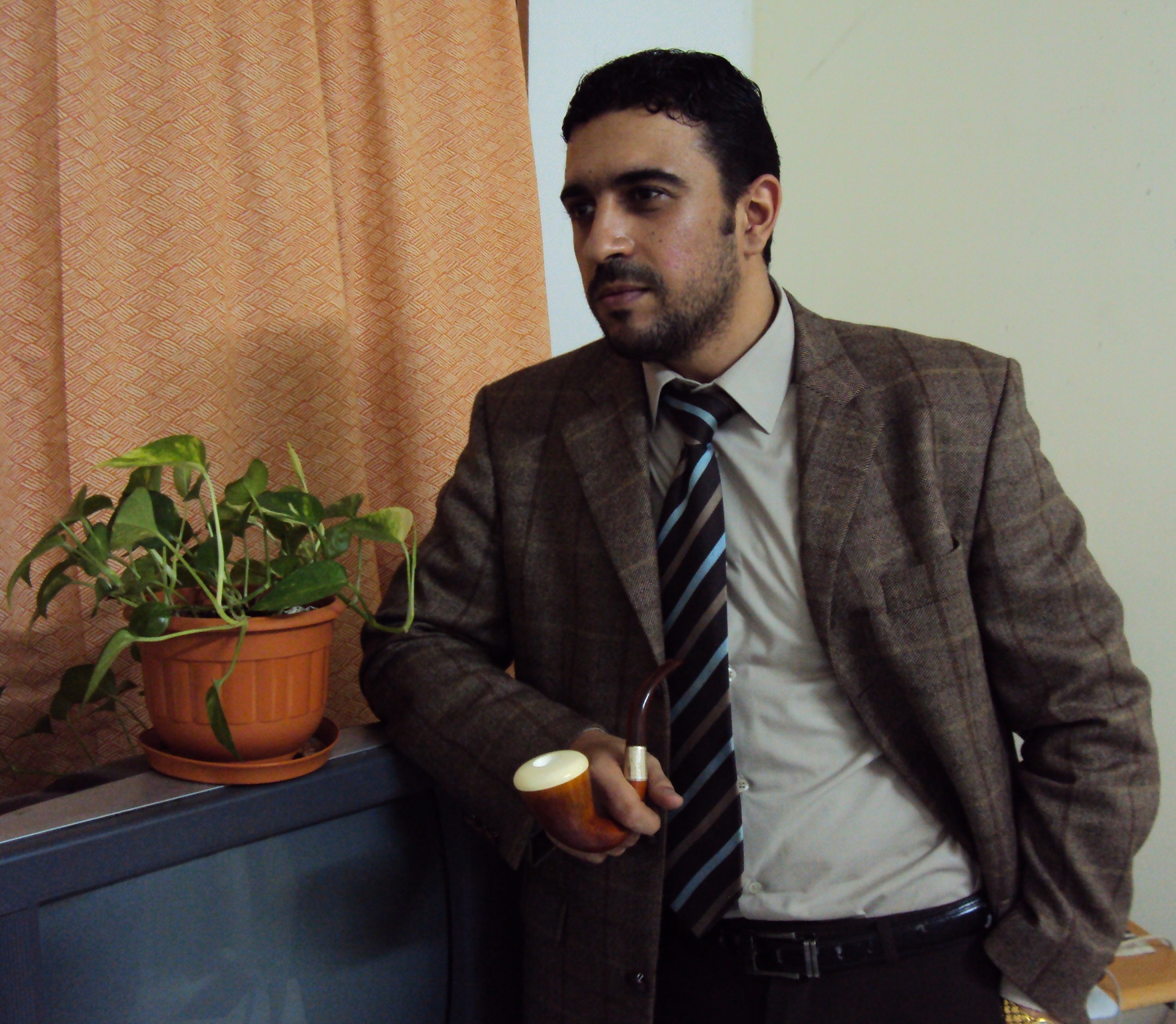 Ahmad Sadik Faraj Al-Janabi is a veterinary pathologist born and raised in Baghdad, Iraq. Ahmad graduated from the University of Baghdad's Veterinary Medicine faculty and obtained his Master's degree in veterinary pathology from Putra University in Malaysia, where he is now residing. Ahmad has been smoking his 200+ pipes for the last ten years or so (the photo above shows a beautiful meerschaum/gourd calabash), proudly continuing a family tradition of pipesmoking started by his grandfather. Despite Dunhill's demise, Nightcap is still his favorite contemplative blend until a suitable alternative is found, but outdoors Ahmad is quite happy to raise a bowl of Mac Baren's Vanilla Cream flake, something which never fails to elicit admiration and praise from whoever happens to pass by.


Daniel J. Grasse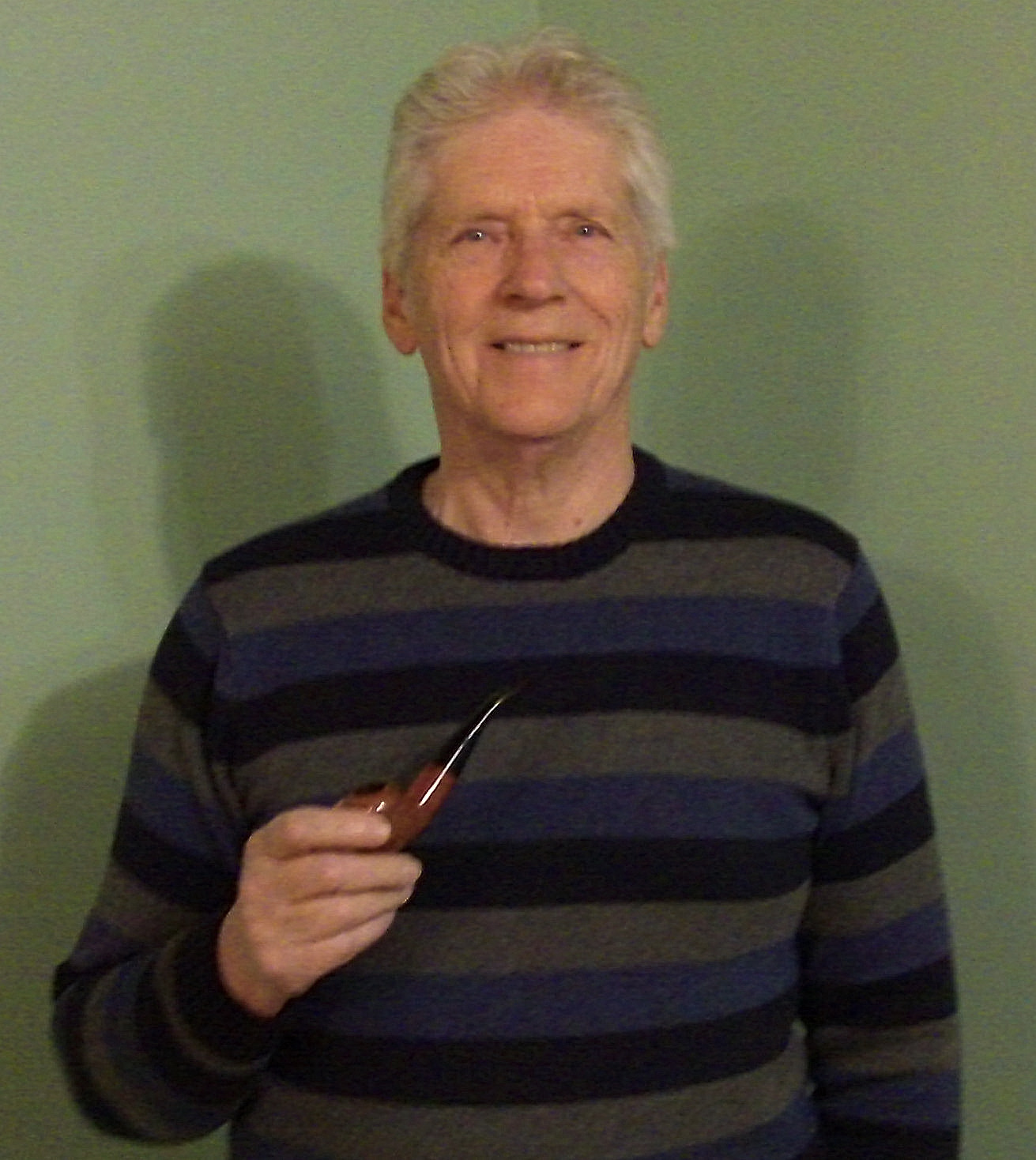 Daniel J. Grasse lives in New Brunswick, Canada. After a long and rich civil career as an accountant, lawyer, and writer (and two degrees, one in Biology and one in Law), Daniel has retired to devote himself to his two hobbies: continuing his writing (he is the author of Hitler's Death: Munich October 23, 1954, and is preparing a book on the origins of the human race), and exploring the world of pipe smoking. A collector of antique tobacco tins, Daniel is also collecting pipes. He strongly believes that pipe smoking is a ritual adventure where fun, relaxation, and intellectual enhancement form a harmonious whole. In the photo above, Daniel is holding a beautiful Invicta Briar pipe, ready to be filled with his favourite tobacco, Peterson's Sherlock Holmes.


John Walker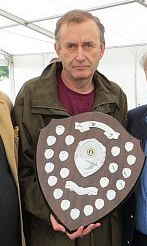 John is a retired school teacher and secretary of the Pipe Club of Norfolk. The photo is of him holding the Darren Jenner Shield that the Pipe Club of Norfolk won at the British Pipe Smoking Championship in 2013. John has been smoking pipes for over 30 years and has six pipes in his regular rotation plus about 20 in reserve. He enjoys plain Virginia and Virginia Perique tobaccos such as Old Gowrie and Louisiana Flake. His favourite pipes are a Stanwell Hans Christian Andersen and a Peterson Donegal Rocky 65. John isn't a philosopher - he just smokes because he likes it.

Ahmad Temsah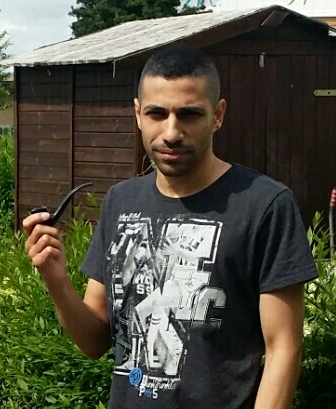 Ahmad Maher Temsah was born in 1986 in Beirut, Lebanon. Ahmad is married and lives in south Denmark where he is doing a Master's degree in Strategic Entrepreneurship. Ahmad is fairly new to pipe smoking but was always fascinated by it, and he loves the ritual of smoking along with jazz or Fayrouz at the end of the day. Ahmad owns a briar and a Missouri Meerschaum corn cob, and hopes to expand his collection to include a churchwarden and more exquisite pipes. He smokes Mac Baren's Virginia no. 1 and is currently trying out new flavors (Dunhill and My Own Blend).


Dave Neeb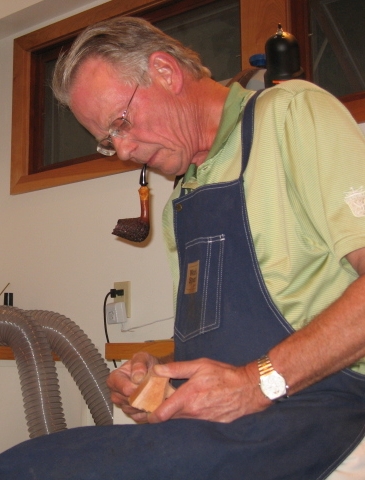 Born in 1942 in Chicago, Illinois, Dave was educated at DePauw University and The University of Wisconsin Law School. Before retiring in 1984, Dave Neeb practiced law in Milwaukee, Wisconsin, specializing in maritime litigation. A pipe smoker for many years, he decided to learn how to make pipes. To that end, he sought out assistance from Lee Erck (whose pipe you can see in the photo) and Rad Davis, two preeminent American pipe makers, and has now been making high grade briars for about eight years. He spends his time making pipes and selling estate pipes on his website (http://mkelaw-pipes.com/index.html) with a little golf on the side.

Hervé Debuire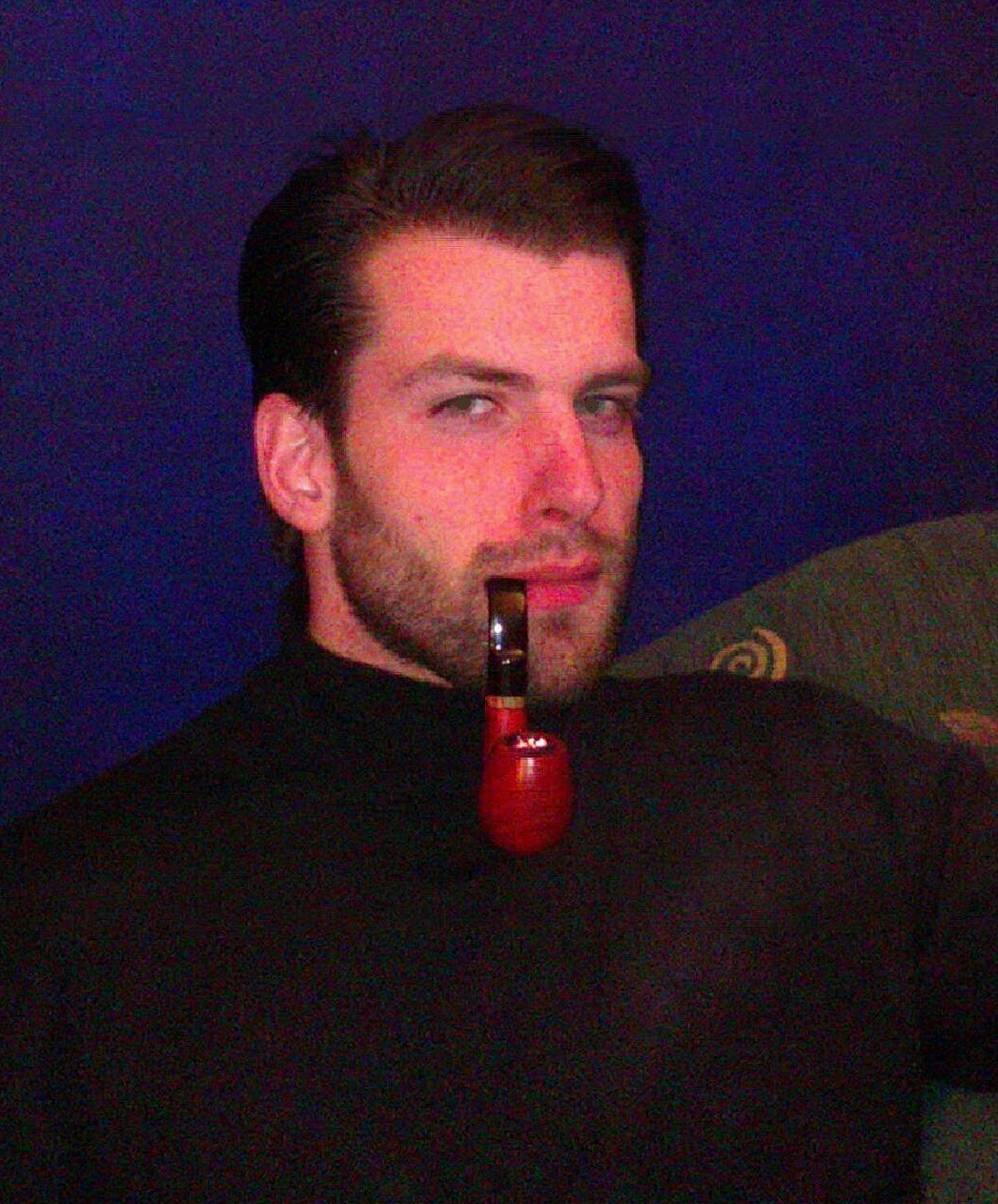 Hervé Debuire was born in Le Mans (France) and came to Lebanon to teach French in Deek el Mehdi. There, he became connected on a deeper level by marrying a young woman of the country. Very interested in literature and philosophy, he came to the pipe through the myths smoking evokes. He owns a Peterson and a few other briars. He prefers to smoke Mac Baren's Black Ambrosia, but is eager to discover other tobaccos.
Patrick Georgevitch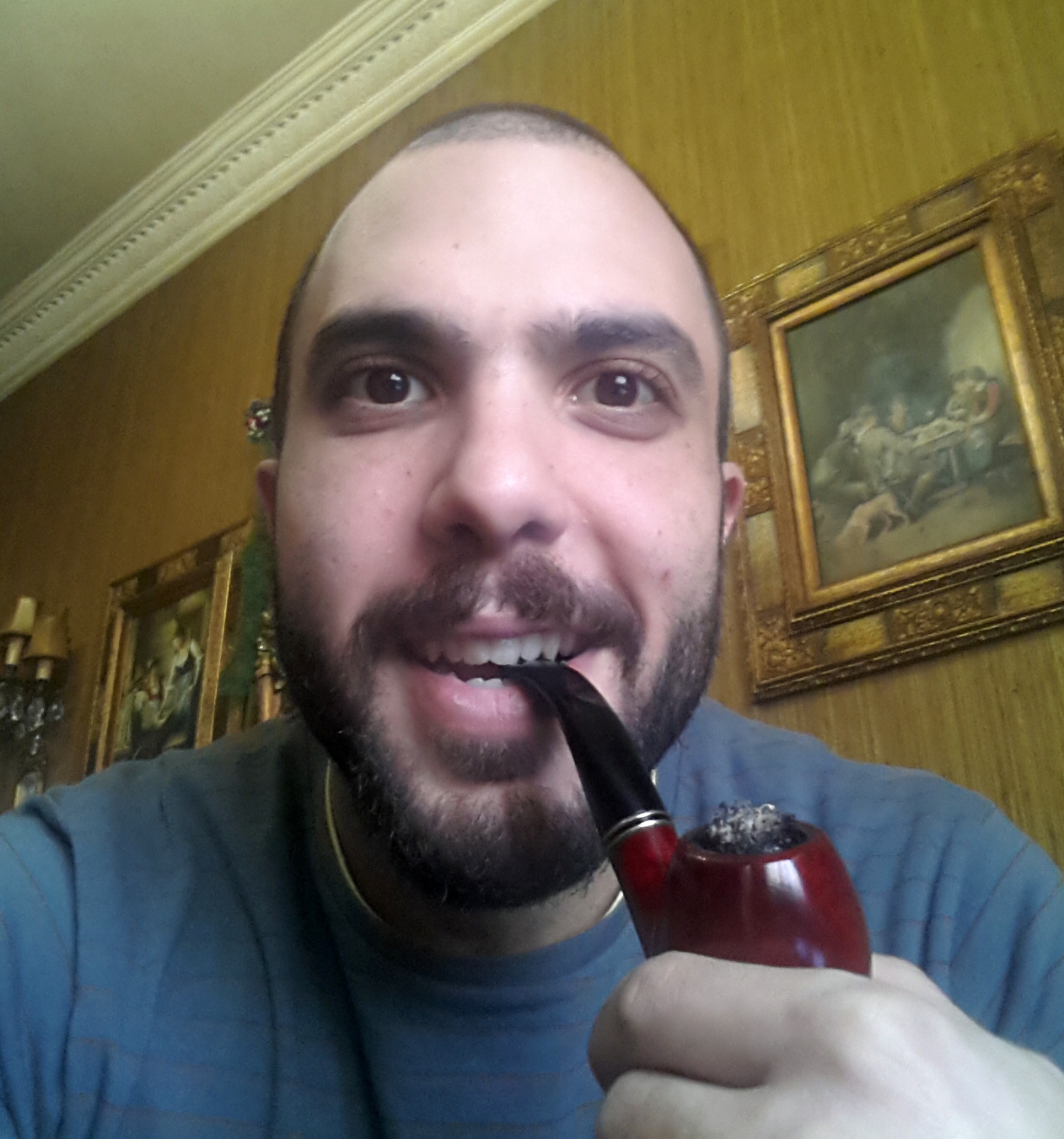 Patrick P. Georgevitch was born in Beirut in 1983. With a growing collection of pipes, smoking turned into a passion for the noble way of sharing intellectual and cultural views while enjoying a nice voluptuous smoke. Among his favorite tobaccos are MacBaren's Vanilla Toffee Cream and Dunhill's Nightcap. A healthcare practitioner who found in the ancient art of pipe smoking a therapy for both the body and the mind, one of his favorite moments is smoking a pipe while delving deep into the works of J.R.R. Tolkien. One motto for life: "Promote freedom of mind above all!"
Trevor Burgess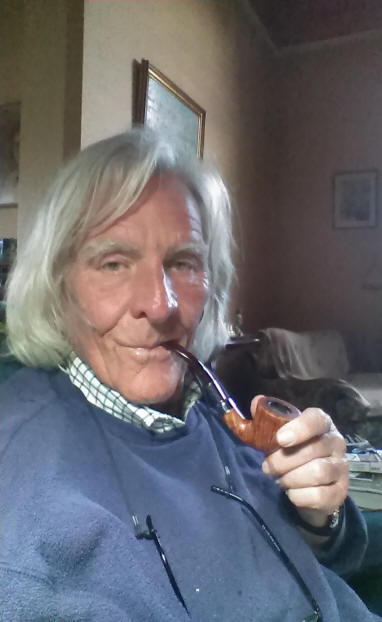 Trevor was born in Twickenham, south west London in 1950 and currently lives in West Berkshire, UK. He has lived all his life in southern England and has just retired from the IT industry. Early memories of his fathers smoke filled study set him on the road to pipe smoking although for years he made do with one or two pipes and readily available 'supermarket' tobaccos. Joining the Pipe Club of London in 2008 brought a new dawn to his pipe smoking as the huge variety of pipes and tobaccos became apparent, and now he is continually trying new blends although current favourites include GL Pease Westminster, Samuel Gawith's Cabbies and Dunhill Elizabethan. Trevor now serves on the committee of the Pipe Club of London and is anticipating having more time to devote to pipe smoking in the future.
Sam Hawa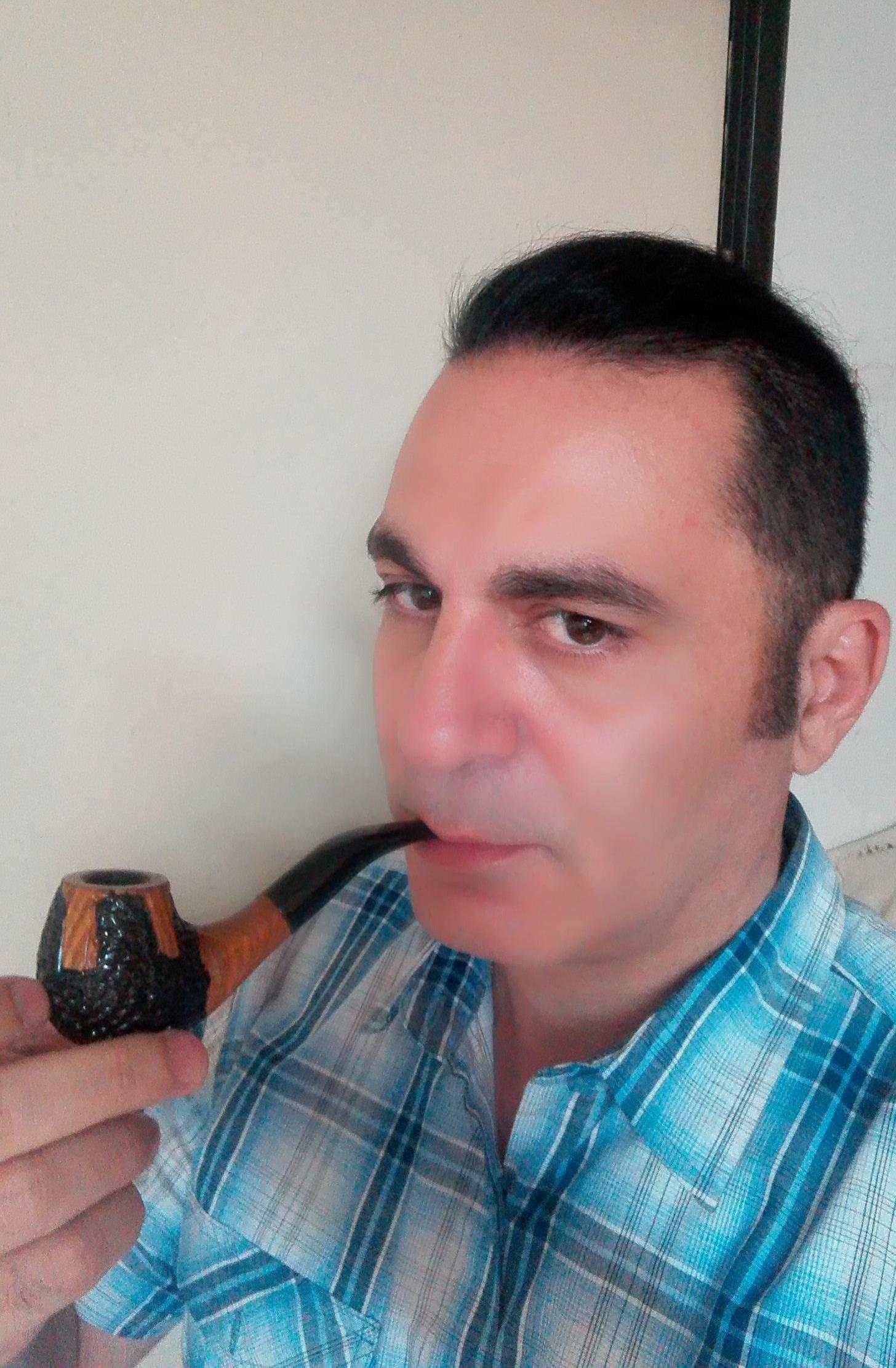 Sam adores the 'pipe tobacco blends' realm since his twenties. Born in Hadeth, Lebanon, in 1968, he spends most of his time in mainly the Gulf effective the early 1990's onwards, making occasional visits to Lebanon and London. Sam works as Senior Sales Contracts Manager, and has a Master of Business Administration from London. He is also an author of books in English, covering various topics, such as philosophy and literature. He has a wide collection of Italian, English, Dutch and French pipes, and enjoys smoking various tobacco blends by G. L. Pease, Cornell & Diehl, Hearth & Homes, Dunhill, Samuel Gawith, and Peterson. Sam has a deep passion in creating his own pipe tobacco blends.